HANSE 508 - SAILING YACHT CHARTER IN CROATIA
Charter of the sailing yacht Hanse 508 from the charter bases Biograd, Sibenik, Kaštela (Split) - Dalmatia - Croatia
HANSE 508 - Live your own adventure. Here is a yacht crafted for endless bluewater sailing, far from any coast. Explore beyond the horizon and discover tranquil bays and limpid waters.
HANSE 508 - FOTO GALLERY
HANSE 508 Exterior - Click on the photo to enlarge
Hanse 508 - design and performance:
Anything is possible with the HANSE 508. Her modern design is a clear statement. And her performance, one of the best in her class, will thrill sailors to the core.
Hanse 508 - fast cruising
Feel at home on the high seas. The trademark fast hull line and the impressive sail plan come from the pen of judel/vrolijk and co, the world's best and most experienced yacht construction engineers. The combination of a perfectly harmonised lateral plan and a pre-balanced rudder blade is a further guarantee for high-speed performance and safety while you are sailing.
HANSE Easy Sailing Concept

: Hanse invented the integrated self-tacking jib and brought all the lines to the helm. This means you can sail your yacht alone – or carefree while enjoying time with guests. Reefing, tacking and setting sail can all be performed from the helm without any effort. The deck is free of lines and fittings, giving you uncompromising comfort and space while you are at sea or relaxing in the harbour.
Rig & Sail optimisation: A high rig is the trademark of every HANSE. The yacht designers from judel/vrolijk & co perfectly form the sail plan for each HANSE with the use of highly sophisticated calculation models. This guarantees that you have the best sailing characteristics under all conditions, and it ensures your HANSE is one of the fastest yachts in its class.
Constantly long waterline: Outstanding performance comes from having a steep stern and a straight stem. This intelligent design provides an optimal, long waterline at any heeling angle – and superior speed for you on all courses.
Hanse Rudder balance: When it comes to the design of the rudder system, HANSE gives you high agility without compromising safety. For this, Hanse has developed a pre-balanced rudder whose efficient surface is larger than average. It makes steering the yacht in any situation child's play.
HANSE 508 Interior - Click on the photo to enlarge
Hanse 508 - Interior
- The ideal combination of sunlight and lighting effects to accentuate the ambience. The optical interplay of fine fabrics and elegant furnishing surfaces. The intelligent use of space thanks to movable interior elements. The HANSE 508 defines modern living over a length of 50 feet.
- Large wardrobes, cupboards and shelves provide plenty of storage. The en-suite bathroom offers impressive volumes. Stylish fittings, smart lighting and top quality materials complete the atmosphere.
- Exclusive woods and high-quality finishing create a truly inspiring living space, while the lounge sofa and an adjustable bench offer great comfort.
Specifications - Hanse 508
Producer: Hanse
Basic info
Length: 15.55 m
Beam: 4.75 m
Draft: 2.4 m
Steering wheel: 2
Year: 2023 - 2019
Technical data
Fuel tank: 280 l
Water tank: 630 l
Engine type: Yanmar
Engine power: 80 HP
Cruising speed: 8 knots
Accommodation
Berths: 10+2/8+2+1
Cabins: 5+1+salon/4+1+salon
WC / Shower: 3 ili 3+1
HANSE 508 - PRICE LIST (€ / week) / SEASON 2023
(year 2021, 5+1 cabin)
| | |
| --- | --- |
| 01.01. - 27.05. | 4.680 |
| 27.05. - 10.06. | 5.580 |
| 10.06. - 24.06. | 6.590 |
| 24.06. - 15.07. | 7.550 |
| 15.07. - 12.08. | 8.290 |
| 12.08. - 26.08. | 7.220 |
YACHT CHARTER INQUIRY FORM
(year 2021, 5+1 cabin)
| | |
| --- | --- |
| 26.08. - 09.09. | 6.730 |
| 09.09. - 16.09. | 5.760 |
| 16.09. - 23.09. | 4.830 |
| 23.09. - 30.09. | 3.990 |
| 30.09. - 04.11. | 3.540 |
| 04.11. - 31.12. | 3.400 |
YACHT CHARTER INQUIRY FORM
The above prices are the full, regular prices. In our offer there are currently discounts on sailing yacht charter in Croatia. Check the LAST MINUTE and SPECIAL OFFER links below or simply contact us for the best price for the Hanse 508 Charter.


Special deals
We offer you great discounts on motor boats, sailboats and sailing catamarans as the part of our special offer, which includes last minute deals, early booking deals and various promotional offers. Below you will find the links that will take you to last minute offer and special offer pages. Contact us for more information or fill this short form. We will be happy to provide you the best offer for your charter in Croatia.
IN THE PRICE INCLUDED: VAT, dinghy, bedlinen
NOT INCLUDED IN THE PRICE (OBLIGATORY): End cleaning and transit log 360 EUR
EXTRA (OPTIONAL): outboard engine, skipper, transfer to the charter base and back, SUP (stand up paddle), towels, safety net, pets on the boat, Wi-Fi
PAYMENT TERMS: till 50% after booking and the rest till 5 weeks before commencement of the charter
SECURITY DEPOSIT: 2500 EUR - 3000 EUR
HANSE 508 - EQUIPMENT
Deck equipment:
2 Steering wheels, Bimini top, Outside shower, Swimming ladders, Electric anchor winch, Table, Dinghy, Gangway, Grill*
Electrical equipment:
Bowthruster, Heating Webasto*, Air condition on 220 V, Air condition*, Generator*, Battery charger, Shore connection 220 V, Inverter*
Navigation equipment:
Autopilot, Binoculars, Compass, Nautical charts, GPS chart plotter cockpit, VHF radio
Galley equipment:
Fully euipped galley, Dishes, Sink, Fridge in Salon, Gas stove, Hot and cold water
Safety equipment:
Fire extinguisher, Life jackets, Pyrotechnical equipment, Safety harness, First aid kit
The rest:
water maker*, inverter 12 V / 220 V*, solar panels*, ice-machine*
Sails:
roll main sail, roll genoa or full batten/self tacking jib
*Not all Hanse 508 have this feature
HANSE 508 - CHARTER BASES
Marina Kornati, Biograd
Marina Biograd
Marina Kornati, Biograd Read more..
Check-in from 17 h, Saturday
Check-out till 8:30 h, Saturday
Marina Mandalina
Marina Šibenik
Marina Mandalina, Sibenik Read more...
Check-in from 18 h, Saturday
Check-out till 9 h, Saturday
Marina Kaštela, Kaštela
Marina Kaštela, Kaštela (Split)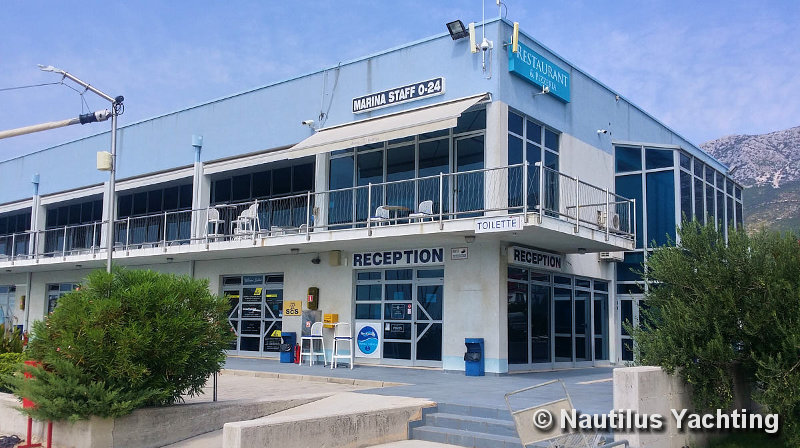 Marina kaštela, Kaštela Read more...
Check-in from 17 h, Saturday
Check-out till 8:30 h, Saturday
Hanse sailboats
Rental of Hanse sailing boats - Yacht Charter Croatia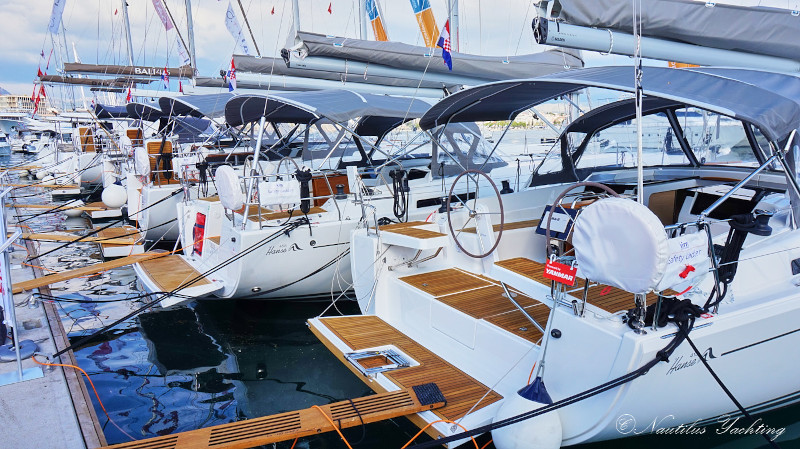 Hanse boats
(4 cab) Hanse 458
(5 cab) Hanse 508 - Hanse 548 - Hanse 588
HANSE 508 - Layout
Hanse 508 LAYOUT - Click on the photo to enlarge
Hanse 508
In total 5 cabins for guests + salon + 1 skipper cabin:
4 double bed cabins (for 8 persons) + 1 cabin with bunk bed (for 2) + 1 skipper cabin (for 1)