CATAMARAN CHARTER IN CROATIA
Catamaran charter fleet
Nautilus Yachting has in offer most prestigious sailing and power catamarans brands like Lagoon, Catana (BALI Catamarans) and Fountaine Pajot. With all the latest water toys, trampolines and easy access to the shore, luxurious and modern style, high level of comfort and wide berths in spacious cabins it is no wonder that catamarans are so popular among those exploring Croatian islands and coastline.
Bareboat catamaran charter
If you have enough experience and valid boat license book a bareboat catamaran to enjoy the ultimate freedom of exploring Croatian islands, secret coves, or untouched beaches framed by blue skies and pine trees. Once you know you're going to go bareboat, just send us enquire and we will recommend the best yachts suited to your preferences and suggest some interesting bareboat itineraries.
Crewed catamaran charter
A crewed catamaran charter holiday will provide ultimate relaxation and impeccable service to you and your friends and family. Just sit back and relax as professional crew take care of you and your guests while you explore the Adriatic sea. Our skippers will happily show you the best destinations and teach you all about catamaran sailing. You can hire a skipper, but also hostess and a cook.
| Sailing catamarans | Motor catamarans |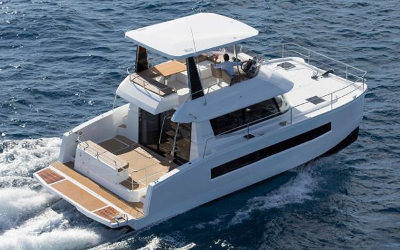 This spectacular multihull yacht is famous for her superior comfort, outstanding views and beautiful luminosity. The catamaran MY 37 also possesses the key attributes of the shipyard's range, including excellent offshore performance, stability, volume, and impressive range that make the boat extremely economical.

| Length: 11.00 m | Beam: 5.10 m | Cabins: 3 or 4 | Berths: 6+1/8/8+1 |
Power catamarans are becoming more and more popular in Croatia. Their comfort and speed with low fuel consumption makes them a perfect choice for a cruise. The power cat BALI 4.3 incorporates the best features of a motor yacht and combines it with the traditionally good characteristics of Bali sailing catamarans.

| Length: 12.70 m | Beam: 7.12 m | Cabins: 4+1 | Berths: 8+1+1 |

Why are power catamarans so popular?
Advantages of power catamarans
Much more space than on monohulls of the same length
Comfortable maneuvering - 2 seperate engines, each on each hull gives absolute comfort in maneuvering in narrow marinas.
Fuel economy, long distance range - Catamarans hulls are more efficient than mono-hulls, requiring less power to maintain equivalent cruising speed.
Stability, rough water performance and incredibly smooth ride
Shallow draft
A recent development in catamaran design has been the introduction of the power catamarans. In popular sailing destinations we can see more and more power catamarans. Why are they getting such popularity? What are the advantages of multihulls? Why power catamarans are superior to mono-hull powerboats of the same length and even to much longer monohulls? We will try to answer all these questions by comparing power catamaran Lagoon Power 44 with a monohull motor yacht of similar length and then comparing it with a motor yacht twice as long. See the links below:
Compare performance of Lagoon Power 44 with performance of monohull power boat of similar length Regal Commodore 4260
Catamaran Lagoon Power 44 vs two times longer monohull Super Yacht Azimut 85 - compare accommodation and performance
LAGOON CATAMARANS - THE ART OF COMFORT
AVANT-GARDE DESIGN, CONSTANT INNOVATIONS, TECHNICAL CHOICES TO SERVE PERFORMANCE, COMFORT AT SEA, SPACE, SAFETY, RELIABILITY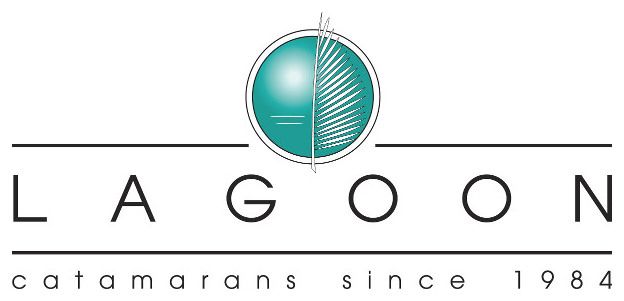 It is easy to sum up Lagoon's philosophy in three words: elegance, conviviality, safety. Continuity between interior and exterior, direct and indirect lighting, ergonomics, harmonious proportions, warm atmosphere and spaciousness, Lagoons yachts were the first to value the lifestyle on board a catamaran. Today, they remain a reference and and it is not surprising that Lagoon catamarans are most popular catamarans for charter in Croatia. All Lagoon catamarans conform to EEC standards, in terms of catamaran unsinkability, even exceeding those standards on numerous levels.