JEANNEAU 65 World premiere - February 2022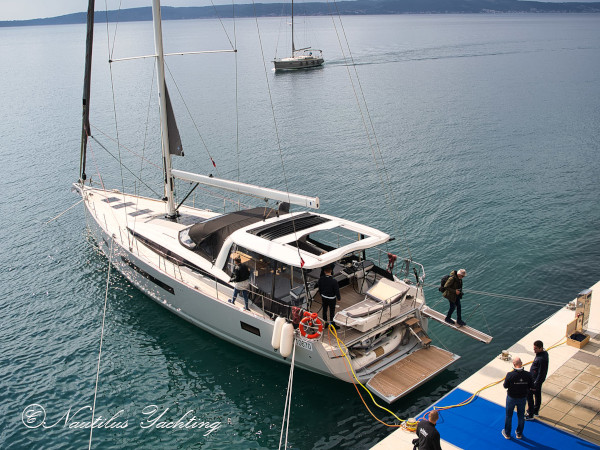 World prestigious yacht builder, Jeanneau, premiered its 65 feet (20.7 m) long flagship in Croatian marina, Marina Kastela, a harbour situated in the resort of Kastela, right between pittoresque town Trogir and Split nearby. The event started on February 19th and lasted till February the 21st.
Jeanneau aimed to strengthen the bond between Jeanneau, sailors, individual clients, charter companies and boat dealers by bringing them all together, in the very heart of one of the biggest nautical destination in Europe – Croatia.
The World premiere of new and the biggest yacht in the Jeanneau yacht fleet, the Jeanneau 65, was perfect opportunity for that. The yacht sailed from the shipyard at Monfalcone, Italy and was berthed in Marina Kastela waters for presentation. Recently built Marina Kastela, shielded by Kozjak Mountain from the north and guarded with the Marjan and Čiovo Peninsula from the southern side, was excellent place for testing sailing performances right on the spot.
The yacht, 20.2 m long, 5.40 m wide, with draft 2.95 m has met all our expectations. Solid, fast, running smoothly and behaving extremely well towards waves, Jeanneau 65 features the top qualities in safety, elegance and seaworthiness. Under the sails and on the cruise in the Kastela bay, the boat was simply impressive.
Take a glimpse into picture gallery below.
World premiere - Photo gallery
Click photos to enlarge
***The copyright and other intellectual property rights in all material on this Website are owned by Nautilus Yachting Ltd. and cannot be used without Nautilus Yachting Ltd. prior written consent.