LAGOON POWER 44 - WHY POWER CATAMARANS
ARE SUPERIOR TO MONO-HULL POWERBOATS?
Catamaran Lagoon Power 44 vs two times longer monohull Super Yacht Azimut 85
- compare accommodation and performance
Catamaran LAGOON POWER 44 - Salon

World's biggest catamaran builder, member of Beneteau group
Model:
Lagoon Power 44
Category:
Catamaran
Length:
13,04 m
Berths:
8
Cabins:
4
Heads / WC:
4
Advantages of power catamarans
Much more space than on monohulls of the same length
Comfortable maneuvering - 2 seperate engines, each on each hull gives absolute comfort in maneuvering in narrow marinas.
Fuel economy, long distance range - Catamarans hulls are more efficient than mono-hulls, requiring less power to maintain equivalent cruising speed.
Stability, rough water performance and incredibly smooth ride
Shallow draft
A recent development in catamaran design has been the introduction of the power catamarans. In popular sailing destinations we can see more and more power catamarans. Why are they getting such popularity? What are the advantages of multihulls? Why power catamarans are superior to mono-hull powerboats of the same length and even to much longer monohulls? We will try to answer all those questions in this article so that you can choose more easily whether to charter a catamaran or a classic deep-V monohull motor yacht and determine which type of boat suits your boating style more.
We picked two excellent boats for comparison here: catamaran Lagoon Power 44 and two times longer monohull Super Yacht Azimut 85. We know we're comparing apples to oranges to some degree, but it's sometimes good to compare the taste of oranges and apples. We do believe that comparing these two boats will help our guests make a more informed decision if the question of cat versus mono arises in their quest for a perfect charter boat. That said, let the comparison begin.
"The only difference between men and boys is the size of their toys."

According to this little pearl of wisdom, luxury cars, plasma TV's, powerboats, sailing boats… are all evidence of many men's prolonged adolescence. But those Big boy's toys look like a real toys compared with favorite toy of very wealthy – Super Yachts. In the eyes of the very wealthy, the classification of Super Yacht means everything is big - the length of the waterline, size of the salon and cockpit, to the cost of an expensive array of furnishings, plus a luxuriously appointed cabins and an engine room filled with big and thirsty engines.

Many people, especially those with hectic lives, have dreamed of leisurely cruising the world's most beautiful waters on such magnificent and prestigious super yacht, but only few ever realize this fantasy. Size, power and prestige, comes with a cost and chartering a real Super Yacht is super expensive with each nautical mile presenting a big bill for topping up the fuel tanks.

Fortunately, there are Super Yachts, and then there are yachts that are just super, like Lagoon Power 44. With a user-friendly 13,02 meters length, power catamaran Lagoon 44 offers comfort, elegant design and construction integrity similar to that of bottom end Super Yachts, for much lower charter price. (Yachts from 23 meters and up qualify for the Super yacht.) Like her sailing brethren - Lagoon 440, power catamaran Lagoon 44 offers remarkable space and accommodations. This is possible because cats have a wider beam than a conventional single-hull motor yacht. In many cases, our guests who come aboard a power cat LP 44 for the first time are often startled to discover the immense salon and cockpit areas that seem to be sized for yachts twice as large. If you think that we are exaggerating a bit and don't believe us, just take a look at the images below.

Compare accommodation and performance of Lagoon Power 44 with accommodation and performance of two times longer Super Yacht - Azimut 85.

Copyright by Nautilus - Unauthorized use of text and graphic on this page is strictly forbidden.
LAGOON POWER 44 VS AZIMUT - SPECIFICATION
Lagoon Power 44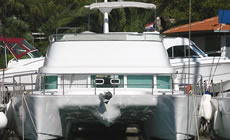 Length:
13,04 m
Beam:
6,42 m
Engine:
2 x 310 HP
Cruising speed:
18 knots
Maximum speed:
24 knots
Draft:
1,20 m
Accommodation:
Cabins:
4
Berths:
8
WC / shower:
4
Lagoon Power 44
VS
Azimut 85
Azimut 85
Length:
26.83 m
Beam:
6,57 m
Engine:
2 x 1825 HP
Cruising speed:
24 knots
Maximum speed:
30 knots
Draft:
1,8 m
Accommodation:
Cabins:
4 + crew
Berths
8 + crew
WC / shower:
5
Lagoon Power 44
Power catamaran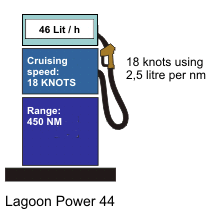 Fuel consumption
Azimut 85
Monohull motor yacht
Fuel consumption
LAGOON POWER 44 VS AZIMUT - COMPARE COCKPITS
Lagoon Power 44
Power catamaran
Cockpit
Azimut 85
Monohull motor yacht
Cockpit
Lagoon Power 44
Power catamaran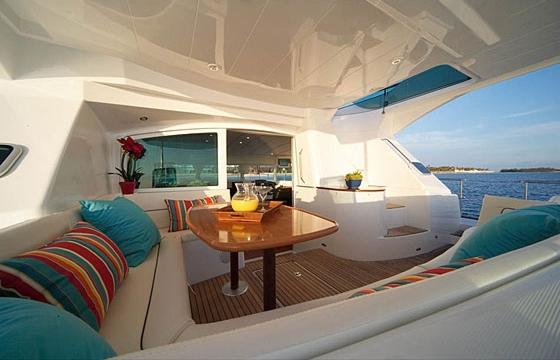 Cockpit
Azimut 85
Monohull motor yacht
Cockpit
The Lagoon 44 catamaran center cockpit, with its comfortable seating and table, provides an excellent gathering place for dining al fresco, lounging and entertaining. The Lagoon 44's grand cockpit has an open yet protected view of the water and also has straight access to the salon. It is protected from the weather by an extended flybridge. Raised after deck behind the cockpit is perfect for sun bathing and includes a massive sun bed.
LAGOON POWER 44 VS AZIMUT 85 - SALON
Lagoon Power 44
Power catamaran
Salon
Azimut 85
Monohull motor yacht
Salon
Lagoon Power 44 main salon with navigation station and interior helm is spacious, airy and comfortable. The salon is equipped with a lounge sofa and directors' style foldable chairs.  The salon table can serve as either a coffee table or large dining table and may also be moved to the cockpit. LP 44 interior steering station is now equipped with a Besenzoni adjustable seat and designed for best integration of electronic equipment. Wonderful, panoramic visibility is provided by the wrap around windows and sliding glass door opening to the cockpit. Thanks to Lagoon's trademark vertical windows the panoramic views from the salon are unmatched by any other power catamaran on the market. The comfortable seating includes numerous storage compartments. If you can't find room for your stuff on this boat, you have too much stuff.
LAGOON POWER 44 VS AZIMUT 85 - FLYBRIDGE
Lagoon Power 44
Power catamaran
Flybridge
Azimut 85
Monohull motor yacht
Flybridge
The most stunning of Lagoon Power 44 upgrades is the enlarged fly bridge deck. Three people can sit at the steering station in individual chairs; up to six people can sit comfortably around the table; people can relax on 2 sundecks, one of them in the shape of a lounge chair to the left of the helm station and the other to the rear of the table seating area; For safety at sea, the Fly bridge access can be closed.
LAGOON POWER 44 VS AZIMUT 85 - CABINS
Lagoon Power 44
Power catamaran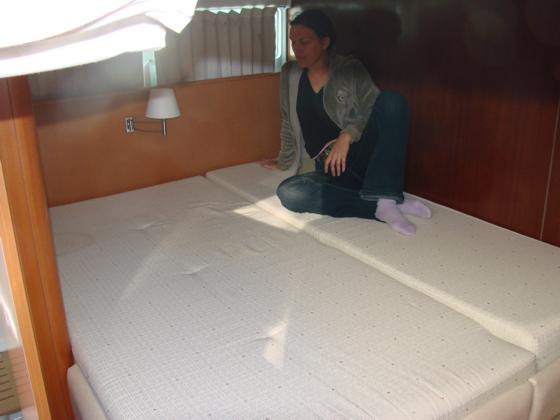 Cabin
Azimut 85
Monohull motor yacht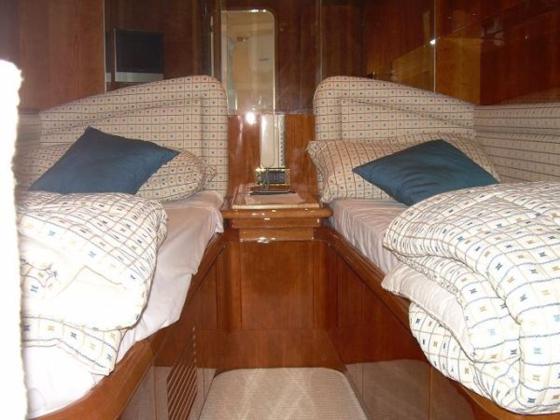 Cabin
Lagoon 44 powercat offers accommodation for up to 8 guests in 4 double cabins with head and shower for each cabin ... a huge bonus rarely found in power cat designs. You probably think that super yacht Azimut 85 has much larger cabins then Lagoon 44, but difference is not so big (see layout below).

Azimut 85 also offers accommodation for up to 8 yacht charter guests in 4 double cabins, in the following layout: 1 Master cabin, 1 VIP cabin and 2 further Twin cabins.  The four guest cabins are located on the lower deck. On the lower deck are also located two crew cabins and large engine room. Master cabin is really huge and together with big engine room and 2 crew cabins occupy almost 60 % of lower deck space. Master cabin amidships borrows space from the forward guest accommodation to create a large dressing area—a sort of antechamber.  Added to the already generous proportions of this full-beam suite, this option really gives the owner something in return for signing all the checks. Since master cabin takes up almost 50 percent of the guest accommodations space, other 6 guests will be little disappointed with the size of their cabins.
LAGOON POWER 44 VS AZIMUT 85 - LAYOUT
LAGOON Power 44 / Azimut 85 - Cabin layout - Click on image to enlarge
Compare accomodation space
Lagoon 44: 4 cabins (8 berths) and 4 bathrooms.
Azimut 85: 4 cabins (8 berths) and 4 bathrooms.
LAGOON POWER 44 VS AZIMUT 85 - SWIM PLATFORM
Lagoon Power 44
Power catamaran
Swim platform
Azimut 85
Monohull motor yacht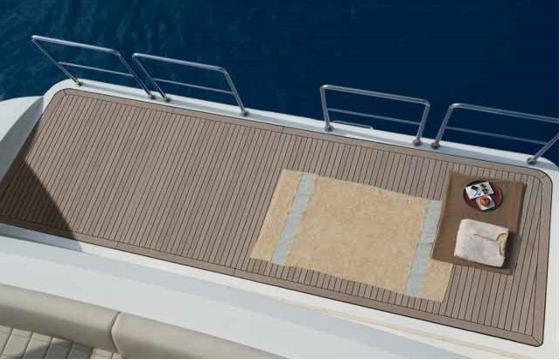 Swim platform
Water enthusiast will be delighted with Lagoon 44 full width  swim platform (over 6 m wide) with related storage facilities. The transom connects the two stern sections and provides room for storage lockers, a swim ladder and a deck shower. The Lagoon Power 44 has the most spacious and functional  swim platform in its class and completes the finest power catamaran to appear on the market today.
LAGOON POWER 44 VS AZIMUT 85 - PERFORMANCE
Speed
Lagoon Power 44 2 x 310 Volvo diesel motors offer maximum speed of about 24 knots and cruising speed of 18 knots. At the cruising speed of 18 knots the Lagoon Power 44 is burning only 10% of the fuel of the Azimut 85 (at cruising speed of 24 knots). 
Acceleration
Looking good in harbor is one thing, performing out at sea is another. When acceleration is considered, lightweight LP44 is floating Ferrari in comparison with heavy Azimut 85.
Lagon Power, with 2 x 310 HP, achieve its maximum speed of 24 knots in 10 to 12 seconds. In the same time Azimut 85, with 2 x 1825 HP, achieve only 13 knots. Azimut needs additional 20 seconds to achieve 24 knots.
Fuel economy

Right across the fuel range, at all speeds compared, the Lagoon Power 44 is using far less fuel than Azimut 85. As can be seen from the graph, at speed between 10 to 24 knots the Lagoon 44 is using, on average, only 20% of the fuel of the Azimut 85. At cruising speed of 24 knots Azimut 85 is burning 10 times more fuel then Lagoon Power 44 at cruising speed of 18 knots (460 vs. 46 liters per hour). At maximum speed of 30 knots Azimut's two monster Caterpillar engines (1825 HP each) are burning 720 liters per hour. It seems that one of the most impressive Azimut features is fuel burning. Obviously, Lagoon Power 44 is environmentally kinder watercraft with much better fuel efficiency.
Long distance range
With 1500 liters of fuel capacity, the Lagoon Power 44 at cruising speed of 18 knots has a cruising range of 450 nautical miles. Although Azimut 85 has 6 times bigger tanks (9 000 liters total) than Lagoon 44, Azimut cruising range, at speed of 18 knots, is 420 nautical miles, 30 nm less than LP44 range. (Range calculation based on 90% fuel capacity). Due to exceptional fuel economy Lagoon 44 catamaran at all speeds has similar range to that of Azimut 85, which has much bigger tanks.
Charter price
At last but not least, it is intriguing to see what is the charter price difference between Lagoon 44 and Azimut 85. In low season, Azimut 85 charter price is 40.000 Euro per week and Azimut 85 charter price in high season is 49.000 Euro per week. (Expenses of approximately 25-30%, such as food, fuel, and berthage are charged as an extra as well as a customary 10-15% crew tip for good service).

The Lagon Power 44 charter price in low season starts from 5.000 Euro per week. If you are still planning to charter Super Yacht, like Azimut 85, in spite of everything mentioned above, save this amount of money for tip for the crew.

If the Lagoon Power 44 is booked in the high season, the charter price is 8.730 Euro per week. With this amount of money you can hardly pay Azimut 85 fuel cost for one week

If your holiday budget doesn't allow you to spend about 50.000 Euro for chartering entry-level Super Yacht, not to mention extra expenses not included in charter price, perfect solution for you is mini version of Super Yacht - Lagoon Power 44. To charter Lagoon 44 you don't have to be a billionaire or millionaire, but it will make you feel like one nevertheless. Her super style, super performance and super accommodations qualify the Lagoon Power 44 as a good substitution for much bigger and more expensive yachts.