LAGOON POWER 44 - Power Catamaran Charter in Croatia
Motor catamaran Lagoon Power 44 is not in our offer anymore and has been replaced by another power catamaran BALI 4.3 Motor Yacht from Catana group.
A recent development in catamaran design has been the introduction of the power catamarans. After the success of the Lagoon Power 43, Lagoon delivered the catamaran Lagoon Power 44, a bigger and improved model.
Lagoon 44 at sea
Power catamaran Lagoon 44 quickly became one of the most popular motor catamarans in our offer. Reason for such success is very simple. The Lagoon 44 Power catamaran has the best of all worlds in a luxury cruising vessel. The power cat Lagoon 44 version incorporates the best features of a motor yacht and combines it with the traditionally good characteristics of sailing catamarans.
LAGOON POWER 44 PHOTO GALLERY
Power catamaran LAGOON 44 - Click on the photo to enlarge
Why to charter Lagoon catamaran in Croatia?
Sailing in Croatia is great. Sailing aboard a Lagoon in Croatia is terrific. Why is that so? There are two main reasons for that. First one is because a Lagoon is the best catamaran manufacturer in the world and the second one, is because Croatia is one of the most beautiful sailing destinations in the world and currently one of the most popular ones.
Lagoon naval architecture - avant - garde design, constant innovations
Technical choices to serve performance - Lagoon is the world leader in cruising catamaran construction
Comfort at sea, space on the boat, safety, reliability - Comfort is also synonymous with safety. All Lagoon catamarans conform to EEC standards, in terms of catamaran unsinkability.
The interior design for an optimized comfort - THE ART OF COMFORT
MAIN FEATURES
Lagoon 44 features: Comfort and space, speed, fuel economy, long distance range, outstanding maneuverability, spectacular flybridge and many more. For more details click the links below.
Comfort and space
Like her sailing brethren - Lagoon 440, power catamaran Lagoon 44 offers remarkable space and accommodations. This is possible because cats have a wider beam than a conventional single-hull motor yacht. In many cases, our guests who come aboard a power cat LP 44 for the first time are often startled to discover the immense salon and cockpit areas that seem to be sized for yachts twice as large. Read more...
Privacy
The Lagoon 44 catamaran design solve some of the layout problems associated with a single-hull powerboat, such as cabins that are stacked next to each other. In Lagoon 44 power cat, staterooms are well-separated in the two hulls, thereby offering passengers a remarkable amount of privacy that's impossible to achieve in a monohull powerboat, where cabins often share bulkheads.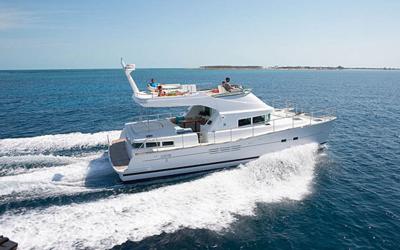 Speed, acceleration, fuel economy, long distance range
Lagoon Power 44's twin 310 hp Volvo diesel engines provide impressive speed of up to 24 knots and exceptional fuel economy found only in a catamaran. Because of the reduced drag from the slim hulls, power cats use less fuel than similarly sized motor yacht, with the bonus of greater range and much lower fuel cost. The slippery shape of the power cat also means it needs smaller engines to match the speed of a monohull powerboat. Read more...
Outstanding maneuverability
You will be impressed with the Lagoon Power 44's maneuverability and responsiveness to her hydraulic steering, even though her double-hull width seems like a lot to handle at first glance. Read more...
Stability, rough water performance and incredibly smooth ride
The wide beam (6,42 m) of Lagoon Power 44 guarantees great stability and a comfortable motion at sea, as well as a steadiness at anchor that rivals solid ground. Because of the wide spacing of the hulls the stability of a Lagoon 44 power catamaran is considerably higher than that of any similarly sized monohull vessel. Twin hull configuration and hull proportions ensure a smooth and exceptionally stable ride - LP 44 does not roll like a monohull boat on a rough sea and turns are flatter versus the leaning action of a monohull.
Spectacular flybridge
The most stunning of Lagoon Power 44 upgrades is the enlarged fly bridge deck. This very large fly bridge deck provides an atmosphere for casual cruising where everybody can linger in complete comfort while they watch the waterways pass by. Here you will find, in addition to the three individual helm seats at the helm station, a table designed to seat up to six people as well as sunning pads for four individuals.
Full width swim platform
Water enthusiast will be delighted with Lagoon 44 full width swim platform (over 6 m wide) with related storage facilities. When you are ready to cool off, quickly grab your diving or snorkel gear from accessible storage compartments around the swim platform. The Lagoon Power 44 has the most spacious and functional swim platform in its class and completes the finest power catamaran to appear on the market today.
Shallow draft
Because of the absence of any keel counterweight that are needed in sailing mono-hull boats, Lagoon Power 44 has shallow draft (1,20 m). Due to the fact that there is no keel counterweight LP 44 catamaran is also lighter and that means LP 44 is faster than traditional mono-hulls. The shallow draft of the Lagoon 44 catamaran design lets you explore where many other boats can't go.
Specification - Lagoon Power 44
Shipyard: Lagoon - Beneteau
Basic info
Length: 13.04 m

Width: 6.42 m

Draught: 1.20 m

Displacement: 11200 kg

Technical data
Fuel capacity: 1500 l (diesel)

Water capacity: 700 l

Engines: Volvo, 2 x 310 HP
Cruising speed: 18 knots
Accomodation
Berths: 8

Cabins: 4 + salon

Toilet / Shower: 4
EQUIPMENT
Air condition in salon
Generator
Depth sounder, compass
Electric anchor windlass
Shore connection 220 V cable
Bilge pump
Security equipment
Navigation charts, Nautical guide, VHF radio
Cockpit table
Many storage compartments
Safety equipment
Electric refrigerators
Hot water
Gas cooker
Equipped galley
Cockpit shower
Bathing platform
CD player
Wi-Fi
Catamaran Lagoon Power 44 - Layout
LAGOON Power 44 LAYOUT - Click on images to enlarge
Comfort and space
Lagoon 44: 4 cabins (8 berths) and 4 bathrooms.