LAGOON POWER 44 - Power catamaran charter in Croatia
Catamaran Lagoon Power 44 - Maneuverability
Catamaran LAGOON POWER 44 - Steering wheel

World's biggest catamaran builder, member of Beneteau group
Model:
Lagoon Power 44
Category:
Catamaran
Length:
13,04 m
Berths:
8
Cabins:
4
Heads / WC:
4
You will be impressed with the Lagoon Power 44's maneuverability and responsiveness to her hydraulic steering, even though her double-hull width seems like a lot to handle at first glance.
LAGOON POWER 44 - Maneuverability
Flybridge - LP 44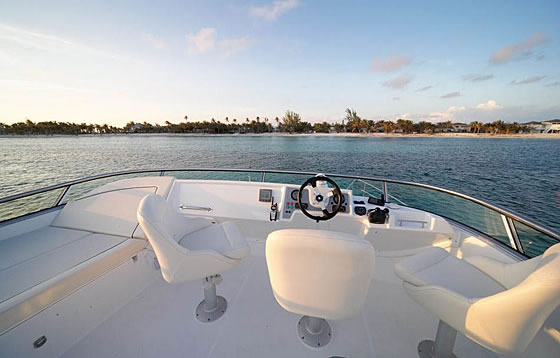 Helm station - Flybridge
Salon - LP 44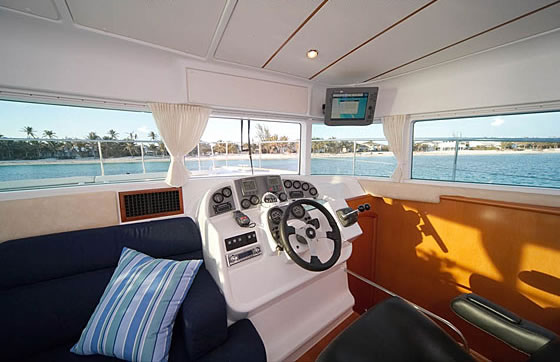 Helm station - Salon
You'll experience a few surprises when you get behind the wheel of a Lagoon Power 44 cat for the first time. The most immediate delight will be ease of handling, accurate control and stability of the boat.. Many of you are familiar with maneuvering twin-screw power boats. Twin screws provide confidence in docking. A twin-screw monohull power boat can get in and out of tight places, with a good skipper. As good as they are to maneuver, twin screw Lagoon power 44 catamaran is even better! On a Lagoon Power 44 cat, maneuverability is improved because the engines are farther apart due to catamaran wide beam (bronze props are 5 m apart). The spacing between hulls adds considerable leverage.
LAGOON POWER 44 - Handling tip: Docking
Maneuvering with the throttles
Figure 1 - Docking: →→ Greater Thrust, → Lesser Thrust
The helm is not normally used in these maneuvers, all maneuvering is done with the throttles. Simply leave your wheel with the rudders centered and perform all steering operations with the two throttles. In most twin-screw power boats when you put one engine in forward and the other in reverse and apply throttle to receive equal thrust to both engines, you will spin on a centerline point. In a Lagoon 44 twin-screw catamaran, you can pivot the boat on any one of three pivot points depending upon how you apply the power to the engines. Using equal engine thrust you will pivot from the center of the boat. Using greater and lesser power, you will pivot from the side applying the lesser power. [see figure 1].
Maneuvering in a tight slip
A little bit of practice and the exercise and you will be an expert in no time. Figure 2 shows a procedure that actually allows you to "walk" a boat into or out of a tight slip sideways. First tip the bows in towards the dock to pull the stern out. Then reverse the engine directions to pull the bows away. Repeat this procedure to "walk" the boat out a little further as shown in figure 2.