LAGOON POWER 44 - Power catamaran charter in Croatia
Catamaran Lagoon Power 44 - Speed, Acceleration, Fuel economy, Cruising range

Compare performance of Lagoon Power 44 with performance of similarly sized monohull power boat Regal Commodore 4260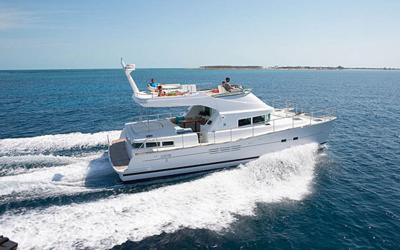 Catamaran LAGOON POWER 44 - Salon

World's biggest catamaran builder, member of Beneteau group
Model:
Lagoon Power 44
Category:
Catamaran
Length:
13,04 m
Berths:
8
Cabins:
4
Heads / WC:
4
LAGOON POWER 44 VS REGAL COMODORE 4260 - SPECIFICATION
Lagoon Power 44
| | |
| --- | --- |
| Length: | 13,04 m |
| Beam: | 6,42 m |
| Engine: | 2 x 310 HP |
| Fuel tank capacity: | 1500 L |
| Draft: | 1,20 m |
| Cabins: | 4 |
| Berths: | 8 |
| WC / shower: | 4 |
| Charter price / week: | 5000 - 8730 Eur |
Lagoon Power 44
VS

Regal Commodore 4260
Regal Commodore 4260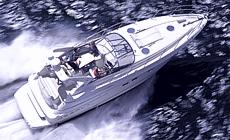 | | |
| --- | --- |
| Length: | 12,80 m |
| Beam: | 4,20 m |
| Engine: | 2 x 480 HP |
| Fuel tank capacity | 1150 L |
| Draft: | 1,04 m |
| Cabins: | 2 |
| Berths | 4 + 2 |
| WC / shower: | 2 |
| Charter price: | 5700 - 9000 Eur |
LAGOON POWER 44 VS REGAL COMODORE 4260 - CRUISING SPEED
Fuel economy
A Speed Demon
Yes, Lagoon Power 44 is fast! Its 2 x310 Volvo diesel motors offer maximum speeds of about 24 knots and cruising speed of 18 knots. LP44 is fuel efficient too. At the cruising speed of 18 knots the Lagoon Power 44 is burning only 55% of the fuel of the Regal Commodore 4260. Even at wide-open throttle (3900 rpm and top speed of 24 knots), Lagoon Power 44 is burning less fuel then Regal 4260 at 24 knots, offering a 271-NM range. The Regal use additional 300 HP (960 HP total) for another 6.5 knots of speed, burning 150 liters per hour at maximum speed of 30.5 knots! So, unless very high speeds are required in a boat of this length, the Lagoon Power 44 is superior to any monohull boat, displacement or planning.
LAGOON POWER 44 VS REGAL COMODORE 4260 - ACCELERATION
Acceleration
You probably think that this floating villa accelerate like a turtle, but actually Lagoon Power 44 accelerate better than many monohull powerboats with narrower beam and much stronger engines. The LP 44 boat feels light and responsive. Lagoon Power 44 has the ability to accelerate quickly and jump up when you decide to put the coals to it. Those slim power cat hulls don't have much drag, so throttle response is much quicker than you'd expect on a single-hull boat. Until you get used to this, treat the throttles with respect.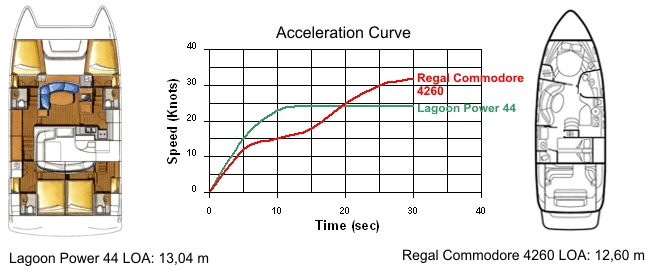 Lagoon Power, with 2 x 310 HP, achieve its maximum speed of 24 knots in 10 to 12 seconds. In the same time Regal, with 2 x 480 HP, achieve only 15 knots. Regal needs additional 10 seconds to achieve 24 knots.
LAGOON POWER 44 VS REGAL COMODORE 4260 - FUEL ECONOMY
More and more skippers are discovering that Lagoon Power 44 offers something that seems impossible: more space for a given length, more speed and less fuel consumption. In spite of fuel price increases, the Lagoon 44 with her low fuel consumption makes motor boating realistic.
Lagoon Power 44
Power catamaran
Regal Commodore 4260
Monohull motor yacht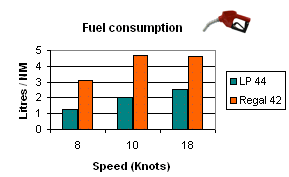 Let's Take a Look at the Fuel Graph It's easy to see why Lagoon Power 44 is a popular choice among those who take cruising seriously. With the twin 310 HP diesel engines, the LP 44 is both quick and amazingly economical. Right across the fuel range, at all speeds compared, the Lagoon Power 44 is using less fuel than Regal 4260. As can be seen from the graph, at speed between 10 knots and 18 knots the Lagoon 44 is using, on average, only 55% of the fuel of the monohull powerboat Regal 4260. Below 10 knots fuel efficiency of the LP44 is even better. Lagoon is burning only 43% of the Regal 4260's fuel. This means, of course, much longer range for the Lagoon 44 at any given speed.
LAGOON POWER 44 VS REGAL COMODORE 4260 - CRUISING RANGE
Fuel tanks
Due to expanded fuel tanks and low fuel consumption, Lagoon Power 44 has greater cruising range than any other single-hull motor yacht of the similar size. The Lagoon Power 44 provides one of the largest fuel capacities in its class. This 13,04 m beauty with an overall beam of 6,42 m has a fuel capacity of 1500 L. Large fuel tanks, speed and fuel efficiency make one heck of a combination.

With its tremendous cruising range and low fuel consumption, Lagoon Power 44 is the nautical equivalent of a camel.
Long distance range
At cruise speed of 18 knots, LP 44 power cat is burning 46 L / h, which translates into a 450+ NM range (range based on 90% fuel capacity). Clearly long-range cruising is not a problem. Even at maximum speed (3900 rpm and 24 knots), LP44 has greater range (270 NM range) than Regal 4260 at cruising speed of 18 knots (240 NM range).
The figure above shows one more advantage of Lagoon catamaran - speed can be reduced to a slower cruise speed for a greatly increased range. If we look at 10 knots, for example, the Lagoon 44 catamaran has impressive cruising range of 650+ NM (Regal range at 10 KT is 220 NM). To further increase her range, the Lagoon cat could decrease her speed to 8 knots, at this point she would have amazing cruising range of 1300 NM (Regal range at 8 KT is 350 NM). As we said before, at speed of 8 - 10 KT LP 44 is using only 43% of the fuel of the Regal 4260 powerboat. For a given amount of fuel this means more than twice the range! Since Lagoon 44 cat has a bigger tanks than Regal (1500 L vs. 1150 L) cruising range of Lagoon 44, at lower speed, is actually three times longer than Regal range! So, Lagoon Power 44 is smart choice for long range live aboard cruising.
Conclusion
This all confirm that Lagoon Power 44 catamaran is the ideal cruising power boat, capable of both high top speeds and extended cruising ranges that cannot be matched by any monohull boat. To our guests this equates to lower fuel costs and more time spent on holiday and less time passage making which should keep everybody happy!
Last mi
Special offer - Motor yachts