CHARTER BASES: MARINA DALMACIJA
Motor yachts, catamarans and sailing yachts for charter from yacht charter base in Sukošan, near Zadar.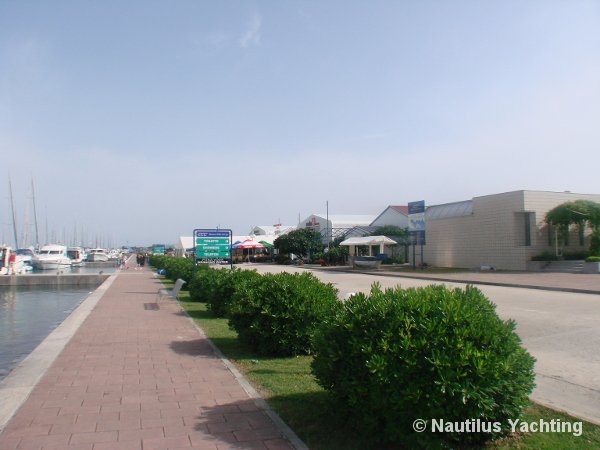 Marina Dalmacija, Sukošan
Marina "Dalmacija" is the largest marina in Croatia. Marina is located in well protected Sukošan bay, 7 km south of Zadar. An exceptional position, the indented coastline and the proximity of the numerous islands, especially the Kornati archipelago, make the marina Dalmatia an ideal starting point for exploring one of the most attractive cruising areas in the world.
Environmental protection: The special attention in marina construction is dedicated not only to her appearance, but also to the protection of the natural bay in which marina is located. Marina Dalmacija meets the highest standards of environmental protection and has been awarded with the Blue flag each year since 2000. Blue Flag is a highly valued international recognition for the purity of the sea and the care of the coastal belt where marinas and beaches are located.
Yacht services: In the marina you can find various services such as: the service and repair of the marine engines, boats washing and polishing service, servicing of ship electrical, electronics and refrigeration equipment, sales and service of navigation devices, etc. In addition to servicing there are shops, restaurants, parking, etc.
Traffic connections: Apart from its extraordinary position, in the center of this most beautiful and interesting coastline, close to the fabulous Dalmatian islands, Marina Dalmacija has excellent traffic connections. Proximity to the regional airport Zemunik, just 5 km away from the marina, as well as the vicinity of the "Dalmatina" motorway and the Zadar railway station, provide easy access to the marina by car, plane or train.
Facilities and services
Berthing:
Berthing capacity: 1,200 (up to 80 m)
The marina can support vessels with a draft of 7 m.
Boatyard:
Dry dock capacity: 300 (160 of which on 3 raised piers on land - crane pass)
4 lift pools
Travel lifts: 30 T & 35 T & 80 T
Trailer: 20 T
Hull and vessel painting
General Services:
24-hour water supply
24-hour power supply (220/380 V)
24-hour dock assistance
Fuel station
WC and shower
Laundry
Video surveillance
Wireless internet access
1,200 car parking places
220 individual garages
Technical Services:
Engine maintenance and repair
Marine electronics
Boat carpentry
Lathing and metalwork
Ventilation, bilge control, air conditioning
Battery control and charging
General cleaning works
Ship chandlery
Navigation and satellite system repairs
Upholstering
Zinc Replacement
Security Services:
24-hour security with guard and CCTV
Fire warning and extinguishing systems
Marina Dalmacija - Photo gallery
Click photos to enlarge
Choose another charter base - marina: