GREENLINE 48 FLY - CHARTER IN CROATIA
Charter of Greenline 48 Fly from Biograd - Dalmatia - Croatia.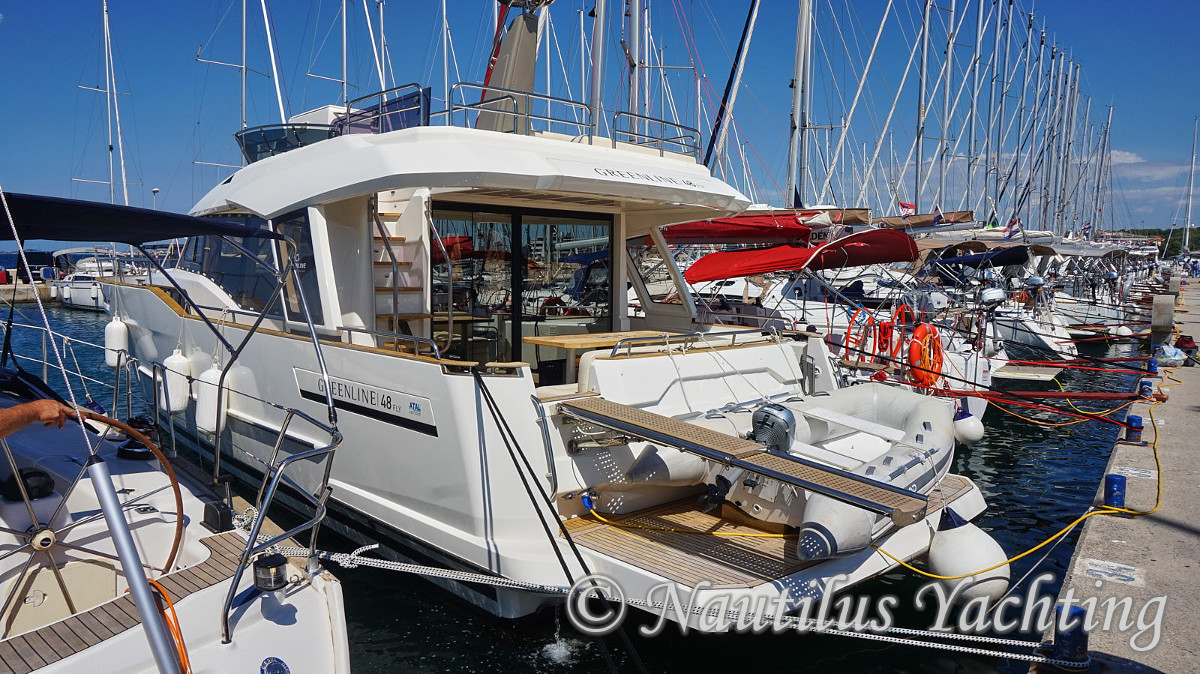 Greenline 48 Fly - Fast, family flybridge cruiser with a unique layout featuring a full beam master cabin and luxurious walk-in wardrobes, two en-suite guest cabins, comfortable flybridge, hydraulic platform, utility compartment under the saloon and many more. Discover a new level of comfort - the excellence in styling attracts even the most demanding and experienced boaters.
Greenline 48 Fly is available for bareboat charter or skippered charter from the charter base in Marina Kornati in Biograd.
The flagship of the Greenline family: the Greenline 48 offers a host of innovative features to set her apart from the competition. With a new interior design, extreme comfort and convenience both on deck as well as down below, the latest diesel propulsion (and ready for 3rd Generation Hybrid system), solar roof and many more innovative features this luxurious yacht is designed for long-range cruising.
Greenline 48 Fly PHOTO GALLERY
Greenline 48 Fly - exterior
Greenline 48 Fly - interior
Greenline 48 Fly at sea
Greenline 48 Fly - features
Greenline 48 Fly - A fun, fast new-age boat offering plenty of versatility and fresh solutions, never seen before in the marine industry.
Silent eco-performance: Solar panels standard - 230/120V AC power at all times, Sun lounge with shade on foredeck, Two luxurious guest cabins with own bathroom, Separate owner's toilet and shower, Wider and larger owner's cabin, Panoramic 360 degree view in salon, Wide and spacious cockpit, Comfortable access to flybridge, Open galley, Flybridge with U-shaped settee, sun lounge and wetbar with barbecue, icemaker and fridge, Utility compartment under salon, Traditional side anchor Cockpit storage
About Greenline Yachts:
Design and engineering: All Greenline models were designed by J&J Design Studio. This world-leading production yacht design studio was founded in 1983 by brothers Jernej and Japec Jakopin and has produced over 300 designs for 55 yards from 22 countries giving birth to over 60.000 production sail- and powerboats - winning more than 100 Boat of the Year, design and environmental awards. Greenline yachts were born on the drawing boards of J&J Design office in 2008. The Greenline 33 became an instant bestseller in 2009, and was sold over 550 times to happy owners in 28 countries, followed by Greenline 40 and Greenline 48 Fly. With numerous awards and nominations from established media the Greenline 48 Fly has been a success right from the start.
GREENLINE - Preserving the environment without sacrificing your comfort
GREENLINE YACHTS ARE THE ONLY RANGE OF YACHTS TO OFFER HYBRID - DRIVE AS WELL AS FULL ELECTRIC - DRIVE
RENEWABLE SOURCES OF ENERGY WITH SOLAR PANELS
BLACK WATER TANKS AS STANDARD
GREY WATER TANK FOR DISHWASHERS AND WASHING MACHINES
DEDICATED RECYCLING GARBAGE BOXES
ALL YACHTS BUILT IN VACUUM INFUSION TECHNOLOGY
Greenline Yachts were designed with environmentally conscious boaters in mind. Greenline started developing the hybrid system and became one of the first boat builders to implement vacuum infusion technology in the production of motor yachts, which drastically reduces emissions while the yacht is being produced. The hybrid system was launched in 2009 with Greenline 33 as the first production boat available with the Hybrid drive. All Greenline Yachts are equipped with black water tanks as standard according to regulations and also offer a grey water tank for dishwashers and washing machines.
Greenline 48 - Hull design

Hybrid hull design benefits: More comfortable and safer ride - Lower fuel consumption and carbon footprint - Outstanding seaworthiness and stability - Lower running costs
Hybrid hull:
The Greenline 48 Fly hybrid hull has evolved from the Greenline signature hull design called Superdisplacement, which incorporates some of the properties of a modern sailing boat hull in that it moves through the water with the least amount of drag and exceeds the theoretical speed of the hull, which is determined by the length of the waterline. The Hybrid hull is a natural evolution of the Superdisplacement as it enables cruising at higher speeds while still maintaining optimal consumption and stability at lower cruising speeds. The fuel consumption per nautical mile is much lower than that of a comparable displacement or semi-displacement hull. It offers a comfortable and safe ride in all weather conditions, whether faced by a head-on, side or following sea.
Solar panels
Greenline 48 can collect and store power from the sun, utilizing highly efficient solar panels on the hardtop thereby producing plenty of electricity to power all systems including home appliances with 230V AC power to make your living onboard as pleasant and convenient as possible.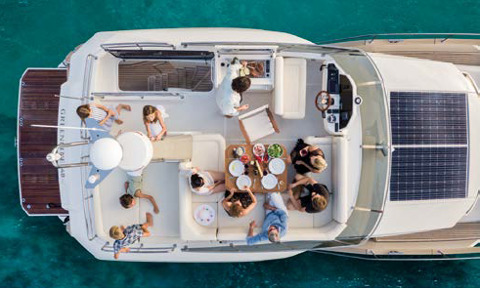 Discover what being independent truly means: The solar roof array charges the batteries, which provide AC power supply for the appliances via an inverter. If the level of battery charge drops below a set value, you can charge the service battery pack via generator.
Appliances switched on 230V AC power onboard all the time: Solar panels charge the service batteries to run all appliances with constant 230V AC power. Having continuous power onboard to run all the appliances in silence, without using any fossil fuels, is not only much friendlier to the environment, but also significantly increases the quality of living onboard.
A weekend in the bay
A weekend at anchor in the bay on a Greenline 48 without running out of energy
The Photo-Voltaic (PV) panels on the hardtop keep the batteries fully charged and supply constant power to on-board 230V consumers such as refrigerator, air conditioning, anchor winch, lights, electric toilet, music, and entertainment systems, thus removing the need for a generator or shore power.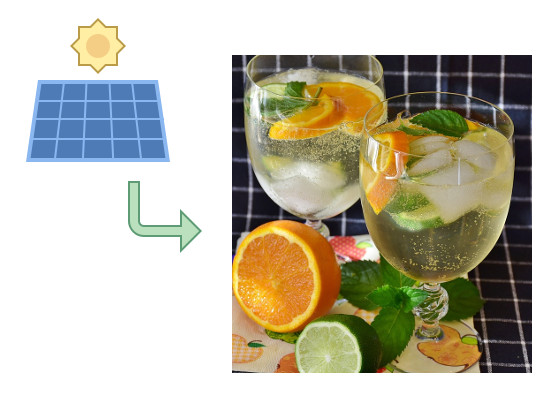 Green energy production - More time spent out on the water: You will never find yourself opening a warm bottle of wine or having to serve your friends cocktails without ice. Greenline Yachts offer 230V AC power onboard at all times even without being plugged in at the marina or running a generator.
Specification - Greenline 48 Fly
Shipyard: Greenline
Basic info
Length (m): 15.45
Beam: 4.80 m
Draught: 1.00 m
Year of built: 2019
Technical data
Engine: 2 x 220 HP
Water capacity: 660.00 l
Fuel capacity: 1500.00 l
Accomodation
Cabins: 3
Berths: 9 (6+2+1)
Heads: 3
Waterline to top of radar mast excl VHF antenna 4,90 m
Displacement empty 13.800 kg
Black water tank 2x80 l
Design J&J Design
GREENLINE 48 FLY - PRICE LIST (€ / Week) / SEASON 2022
Biograd
from 01.01. till 16.07.
| | |
| --- | --- |
| 01.01. - 30.04. | 5800 € |
| 30.04. - 28.05. | 6680 € |
| 28.05. - 11.06. | 7800 € |
| 11.06. - 18.06. | 8900 € |
| 18.06. - 25.06. | 9800 € |
| 25.06. - 16.07. | 10400 € |
YACHT CHARTER INQUIRY FORM
Biograd
from 16.07. till 31.12.
| | |
| --- | --- |
| 16.07. - 13.08. | 12400 € |
| 13.08. - 20.08. | 11400 € |
| 20.08. - 03.09. | 8900 € |
| 03.09. - 17.09. | 7800 € |
| 17.09. - 01.10. | 5800 € |
| 01.10. - 31.12. | 5800 € |
YACHT CHARTER INQUIRY FORM
The prices in the tables above are regular, full prices. For discounts, contact us (we will answer you within max 4 hours) or check out our LAST MINUTE OFFER and SPECIAL OFFER. See the links below!


Special deals
In our offer are currently available some great discounts on motor yacht charter, sailboat charter and catamaran charter. Check out our special offer which includes last minute offers, early booking offers and various special offers. Below you will find links that will take you to the last minute offer and the special offer. Contact us for more information. We will be happy to send you the best possible offer for your holiday on the yacht.
IN THE PRICE INCLUDED: VAT, dinghy, bedlinen
NOT INCLUDED IN THE PRICE (OBLIGATORY): End cleaning and transit log 220 EUR. Visitor's tax 1,4 € per person per day
EXTRA (OPTIONAL): skipper 150 EUR/day (+food), outboard engine 60 EUR/week, towel set 8 EUR, SUP 80 EUR/week
PAYMENT TERMS: 25% after booking, 25% ninety (90) days after the booking confirmation, the rest 35 days before commencement of the charter
SECURITY DEPOSIT: 3000 EUR
GREENLINE 48 FLY - Equipment
Deck equipment:
Storm anchor 1, Main anchor + chain 25 kg + 50m, Flybridge teak cockpit table,
2 x Photovoltaic panels integrated in the coachroof, 500 W, 12 V.
Solar battery charge management system. Cockpit table, Mooring ropes,
Teak on cockpit floor, cockpit seats and bathing platform, Sun deck cushins
Flybridge sun cushions + cushions for the L shaped sofa + protective covers
Dinghy Bimini top 1 Cockpit cushins 2
Electrical equipment:
Sternthruster 6,3kW with 2 x 100 Ah, Anchour windlass with remote controls 1500W
Air condition 16.000 BTU, Quiet electric toliet flush 3
LED ambient light, Shore connection 220 V, Generator (diesel) 11kW/50Hz Inverter 12V/220V
Gas stove, Washing machine / dryer 5kg, Electric refrigerator 1+1
Hidraulic gangway, Bow Thruster
Navigational equipment:
Harbour guides, Navigation charts, Raymarine Axiom 12" multifunction screen with GPS P70R control unit,
GRP radar and navigation mast with navigation lights on the flybridge
Main compass, Raymarine Axiom 12" multifunction screen with GPS - flybridge, DST800 smart transducer, hand bearing compass
Safety equipment:
Torch light 2, Life belts (quantity) 6, Life jackets (quantity) 8, Signal flares and torches
Other equipment:

Set of tools, FUSION Marine Audio PAckage, remote control in cockpit, bluetooth, USB
Central heating system, Speakers in cockpit 2, Fire extinguisher, Fog horn,
2 gas bottles, Fenders, Speakers Flybridge, Dishwasher, Flybridge biminitop, Webasto central heating system 4,
Flybridge kitchen, First aid kit, Waste water tank 3
GREENLINE 48 FLY - CHARTER BASES
Marina Kornati, Biograd
Marina Kornati, Biograd
Marina Kornati, Biograd
Charter base
Motor yachts
Check - in from 17:00, Saturday
Check - out till 9:00, Saturday
Greenline 48 Fly - Layout
Greenline 48 Fly - Click on the photo to enlarge
True comfort - Greenline 48 Fly
3-cabin version (6 + 2 + 1 berth) and 2 wc
Special deals
We offer you great discount on motor yachts, sailboats and catamarans as the part of our special offer, which includes last minute deals, early booking deals and various promotional offers. Below you will find the links that will take you to last minute offer and special offer pages. Contact us for more information. We will be glad to offer you the best possible offer for your charter holiday in Croatia.